We are excited for the 2023 swim season
---
Intersquad Meet
Our Intersquad meet is on Saturday, June 3rd at 9am. The intersquad meet is a great way for swimmers to get base times for the swim season. These times will help support their placements in future meets. Each swimmer will swim in 4 events (backstroke, breaststroke, butterfly and freestyle). No relays will be held at this meet.
Warm-ups begin in the hour before the meet. Please check with your coach to see what time your swimmers will be warming up and please don't be late. If you are volunteering, please show up at the time your volunteer job begins.
Click here for the volunteer sign-up. It also a great time to fill one of your required jobs. Upon arrival and start of the meet, find the volunteer lead to sign for your hours.
---
Intersquad After-Party – June 3rd, After Intersquad meet till 4pm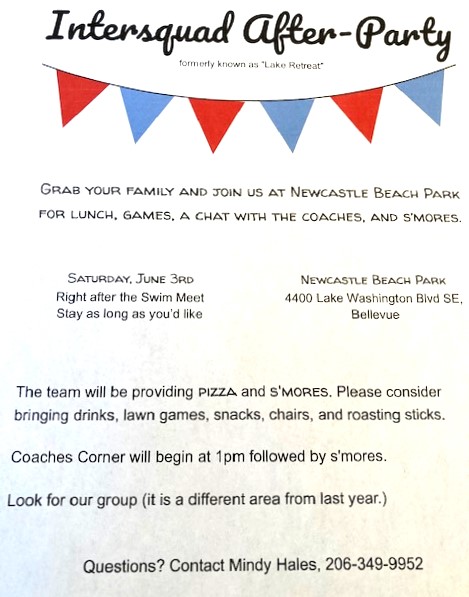 Are you planning to attend the Intersquad After-Party? If so, we need to know so we can order enough pizza. Please click here to RSVP with how many you are bringing. Details of the party are on your left.
---
Swim Suit Exchange
Interested in exchanging swim suits with team mates? If you have an available suit, please go to the below link and enter the size, your name and contact info. Anyone looking for a suit will contact you directly. Click here for the link.
---
Volunteering
Please check out our volunteer pages. Volunteer jobs will be posted here every week.
---
Did you miss the parent meeting? Click below to see the topics we went over.
---
Please contact [email protected] if you have any questions.