What to expect at your first swim meet…
---
What do I bring to a swim meet?
Team Swim Suit, Team Swim Cap and Goggles. Having a extra pair of goggles packed is a great idea in case they break.
Towels. Swimmers will be in and out of the water, so pack at least two or three towels (it's nice to have a dry one at the end of a meet).
Something comfy for your swimmer and family to sit on. Most parents bring camping chairs and tents/canopies. Tents/Canopies can usually be set up about 4pm.
Snacks/Drinks. It is always a good idea to bring food/snacks/drinks. Swim meets can last around 3 hours. There are concessions offered also.
Changes of clothes such as sweatpants, sweatshirts, and t-shirts. Swimmers need to stay warm between events and there is nothing worse than pulling on cold, soggy sweatpants.
Sharpie/Pen/Highlighter. A Sharpie is used to write your swimmers events on their arm.
---
What should I do before the meet starts?
Arrive early. Make sure you arrive at the meet early enough that your swimmer has time to prepare and be prompt to warm-ups. Warm-up times will be communicated before meets.
Find the heat sheet. A Heat Sheet lists all swimmers in each event. This is where you will find what heat and lane your swimmer is in for each event they've entered. You can find the list of event on swimmingly also, but many times there can be last minute changes.
Write the events on your swimmer. Write each event number, heat, and lane on your swimmer's arm in "permanent" (i.e., waterproof) marker, like a Sharpie. This helps your swimmer remember what events he or she is swimming, what event number to listen for, and what lane to get lined up behind. Below is an example…
Abbreviations:
E- Event number, H- Heat number, L- Lane number Last Section is type of event – The length of the swim (in yards) and the stroke FR (Freestyle), BK (Back), BR (Breast), FL (Fly), IM (Individual Medley)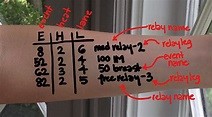 The event number refers to distance/stroke/age for each race
The heat number is used when there are more swimmers than can swim at once within one event
The number is what lane the swimmer will race in
Check in with Captains. After warm-ups, report to captains. They will usually have a pep talk prior to the meet.
---
The meet starts…
Know what events your swimmer is competing in. It is important for swimmer to know what event numbers s/he is swimming. Again, a heat sheet and sharpie are a swim parent's best friends!
Listen for event announcements. Upcoming events are usually announced over the loudspeaker, asking swimmers to report to the starting blocks or staging area. Swimmers should report with cap and goggles on ready to swim.
Swimmers report to the blocks when your event is about to begin. It is a good idea to have your swimmer check in with the lane timers, when possible, to make sure they are in the right lane and heat.
Parents can watch from the side of the pool. Parents are not allowed behind the blocks or in the coaches area, unless you are volunteering.